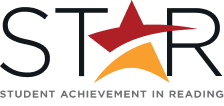 STUDENT ACHIEVEMENT IN READING (STAR)
Reading Specialty Credential
What is STAR?
STudent Achievement in Reading (STAR) is a comprehensive reading reform initiative for implementing evidence-based reading instruction for intermediate-level adult learners.

When is the training?
Tentative Schedule
 Training registration due by December 14, 2018
Kickoff webinar March 1, 2019
Face-to-Face #1  April 11, 2019 in Mitchell or April 26, 2019 in Rapid City
Face-to-Face #2  July 10, 2019 (Summer Summit)
Coaches' webinar July 26, 2019
Training complete by October 4, 2019
Are your intermediate level readers stuck?  Do you have instructors who teach reading, but aren't certified as reading teachers?  WIOA law specifies that "the essential components of reading instruction" be incorporated into instruction including alphabetics, fluency, vocabulary, and reading comprehension.  Do you know how to do this?
We are recruiting local program teams to participate in STAR training.  Each team must include an administrator (or someone with authority to make decisions and changes at the program level and one or more instructors per program team.  Instructors will need to be working with adult students reading at grades 4 – 8.9 (NRS levels 3 and 4) throughout the training because part of the training is implementing what is learned in your classroom.  Students can be ABE or ESL, but ESL students need to have a TABE reading test and score at grade equivalency of 4 – 8.9.
Today more than ever, it is critical for adults to acquire the basic literacy skills necessary to succeed. The U.S. Department of Education's Office of Career, Technical, and Adult Education (OCTAE) has developed STAR to provide states with the resources and training needed to improve the quality of reading instruction in adult education.
What is involved in the training?
This is an intense training spread over 9 months.  There are two 1 day meetings and 23 online modules that you will work through on your own.  The modules are engaging and interactive and contain resources and video clips of techniques in action in adult education classrooms.  Some modules include assignments to try out what you learned in your classroom and sharing plans and reflections about that implementation.
How do we Apply?
Complete the application as a program team and submit either online or by downloading the application.  The groups will be decided based on responses to application questions, support and buy-in from the program, commitment, and appropriate levels of students.
CLOSED –  Online Application
 CLOSED – Application Download